SNP: We'll plant 36 million trees a year in Scotland by 2030
3 December 2019
The SNP has promised to plant 36 million trees every year in Scotland by 2030 to tackle the climate emergency.
Senior party figures signed the joint pledge with Confor at Leith Links in Edinburgh today.
Planting figures across the UK to the end of March 2019 showed 84 per cent of new woodland creation was happening in Scotland. The annual planting target in Scotland of 10,000 hectares (ha) - roughly 20 million trees - was smashed, with 11,200 ha of new woodland planted - while other areas of the UK fell well short of their targets. 
The pledge promises to "share Scotland's success in this area in an effort to drive up planting rates across the UK." 
It was signed by Fergus Ewing MSP, the Scottish Government's Cabinet Secretary for Rural Economy and Deidre Brock, MP for Edinburgh North and Leith from 2015-2019 and SNP  candidate in the current election. She spoke on Environment, Food and Rural Affairs for the SNP in the last Westminster Parliament. 
The pledge was also signed by Stuart Goodall, Chief Executive of Confor. Confor set planting targets to 2030 in a document this year and the SNP has signed up to those targets, which would see planting in Scotland rise to 18,000 hectares annually by 2030 - about 36 million trees. 
Fergus Ewing MSP said: "We have raised our game in Scotland because planting trees matters - not only to tackle climate change, but to encourage biodiversity and support an industry worth £1 billion annually to the economy and employing more than 25,000 people. We are committed to maintaining the increase in planting rates, working with leadership bodies like Confor and anyone else interested in what trees can deliver for our environment, economy and society. Only this shared national endeavour can deliver success." 
Deidre Brock said: "Although forestry policy is devolved, this Westminster election is an opportunity to highlight success in Scotland and look at how we can share that success across the rest of the UK. The SNP is committed to working with Confor as the industry body to drive up planting rates further - and to share our success with other parts of the UK that have missed their planting targets year after year. It's great to see the ambition in all party manifestos, but Scotland is the only place where we are truly making it happen - and where we can say with confidence that the targets we are setting are achievable." 
Stuart Goodall, CEO of Confor, said: "I'm delighted the SNP has committed to the targets we set this year. Scotland's success is based on a combination of political leadership, joined-up policy (linking planting to climate change mitigation and greater use of wood), plus simpler procedures for tree planting application and approval. Close co-operation between politicians, the industry and all other industry stakeholders has also been crucial."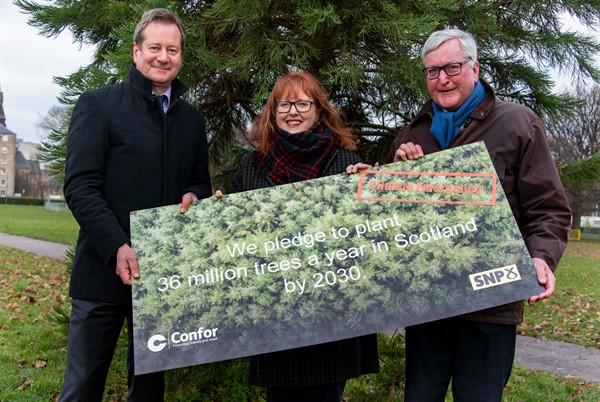 The pledge card signed today says: "We will press for an increase in new woodland creation, working towards a target of 60 million trees planted annually in the UK by 2025, with 30 million of these in Scotland to help tackle the Climate Emergency and to support biodiversity and rural employment. We will share Scotland's success in this area in an effort to drive up planting rates across the UK." 
An accompanying letter commits to the following annual planting targets (in hectares):  
2020: 12,000;   2021: 13,000; 2022: 13,500;   2023: 14,500; 2024: 15,000; 2025: 15,500;
2026: 16,000;   2027: 16,500; 2028: 17,000;   2029: 17,500; 2030: 18,000 
The letter says: "It is only this level of ambition which will deliver the new planting we need if we are truly serious about tackling the #ClimateEmergency. If we can do this, we can also deliver multiple additional benefits for nature, people and our rural communities." 
Confor's simple, three-point General Election 2019 manifesto can be read here and its analysis of all the parties' 2019 election tree planting commitments can be read here