Confor promises to keep tree planting at heart of climate debate
3 May 2019
Confor today promised to keep tree planting at the heart of the climate change debate - and to press politicians for decisive action - after more compelling evidence that forestry has a major part to play in charting the UK's path to net-zero emissions by 2050.
A report by the Committee on Climate Change - which offers independent expert advice to the UK's nations - highlighted a significant increase in tree planting as a vital step to the #netzero target. Its scenarios fit well with Confor's "ambitious but realistic" planting targets - an increase from just over 10,000 hectares now to 40,000 across the UK by 2030.
Read why Confor set the targets here.
 Confor has put the issues of Forests, Wood and Climate Change at the centre of of all its campaigning work and is calling for the UK to #ThinkGlobalPlantLocal and increase forest cover significantly to make a real difference.
Chief Executive Stuart Goodall said:
"High-profile interventions by the likes of Sir David Attenborough and superb expert reports like this are turning the spotlight increasingly on how tree planting can make a real difference to the future of our planet.
[watch Sir David's Our Planet video here]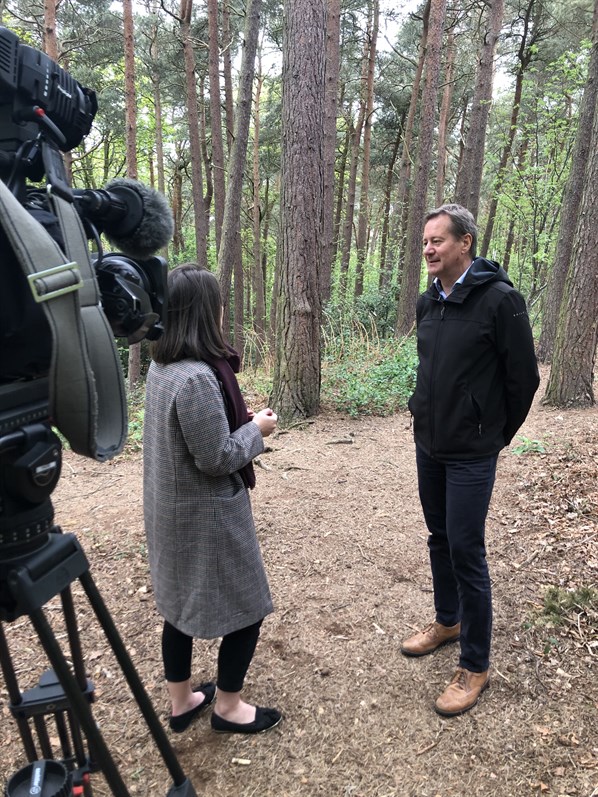 Stuart Goodall during an interview for STV evening news on 02 May
"The path to net-zero emissions requires action to remove carbon from the atmosphere. Planting trees is a simple, low-cost and proven technology to do this - and it also supports people and wildlife. Wood products lock up carbon and enrich our lives.
"There is a growing collective will - from industry, environmental organisations and wider civil society - to plant more trees, but progress could be prevented by politicians failing to provide the leadership required.
"Amid the clamour to proclaim a climate emergency, it's vital that we have reports like this by the Committee on Climate Change to set out what must be done tackle climate change. The time for talking is over - it's time for politicians to act." 
Mr Goodall said Scotland had shown that it was possible to drive up planting rates, but added: "We need far greater ambition in England and Wales to tree planting and to producing more of the wood we need, here at home - and not just continue to import wood and export our carbon footprint."
Mr Goodall concluded: "Delivering on Confor's ambitious and realistic tree planting targets would demonstrate that politicians accept that a climate emergency means real, positive change and not just words.
"Tree planting is now at the heart of the debate on climate change and Confor will lead the way to ensure it stays there. This includes pressing politicians to move away from soundbites to deliver meaningful action and working with everyone with an interest in creating a better future."
Read Stuart Goodall's blog on the CCC UK report here
To find out more about Confor's campaign to #ThinkGlobalPlantLocal click here