Timber Transport Conference
25 March 2022
Held over from 2020, the Timber Transport Forum's annual conference will be held on 25 March 2022 at the Northern Lakes Hotel and Spa in Penrith, with a pre-conference dinner on 24 March.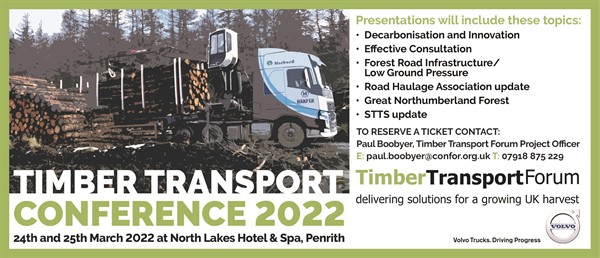 The Timber Transport Forum conference will be held on the 25th of March 2022. There will be a range of presentations and a buffet lunch, and an optional three-course dinner the evening before. 
 Free attendance to the conference and evening dinner is available to a limited number of hauliers (one per company). Book now to avoid disappointment!
Venue: Northern Lakes Hotel and Spa, Penrith, CA11 8QT
Conference attendance: £100 (incl VAT)
Conference and evening dinner: £130 (incl VAT)
To reserve a ticket and for information on accommodation, contact Timber Transport Forum Project Officer Paul Boobyer paul.boobyer@confor.org.uk 07918 875 229