Wood Co2ts Less: new campaign to reduce CO2 in construction
14 July 2020
Confor is at the heart of a new industry campaign to showcase timber's environmental credentials.
Wood CO2ts less aims to raise awareness of how using wood from sustainably managed forests is one of the simplest ways to help reduce carbon emissions.  
In addition to Confor, it is supported by Wood for Good, Swedish Wood, the Timber Trade Federation (TTF) and Structural Timber Association (STA).  
The campaign aims to promote the use of all wood products as low carbon materials. It will illustrate how using wood can help reduce CO2 in the atmosphere and contribute to slowing down climate change. It will target legislators, planners, local authorities, developers, architects and contractors to encourage them to consider using wood first in order to meet national environmental targets. 
Sarah Virgo, Wood for Good campaign manager, said: "The government set a target for the construction industry to achieve net zero carbon by 2050 but it's not feasible for all sectors of the economy to become carbon neutral.  
"To reach net zero, we need to compensate for these emissions by finding ways of removing carbon from the atmosphere. The simplest way to contribute to this reduction is to consider wood first, instead of other materials."
Read Sarah's article in The Scotsman here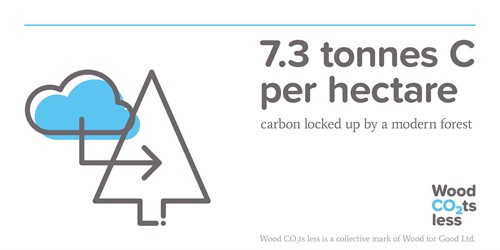 Andy Leitch, Confor Deputy Chief Executive and a long-standing champion of using more wood in construction, said: "Confor is delighted to support this campaign, which comes at an important time as we shape an England Tree Strategy that has the increased use of wood at its heart. 
"As Lord Goldsmith said at a webinar organised by Confor last week, there is no path to net zero that does not include trees and wood - but we have to accelerate the uptake of wood as the construction material of choice."
Dave Hopkins, TTF chief executive, said: "The timber industry is well aware of the impact that building more sustainably can have on the planet and now is the time to spread the message. We encourage everyone to get behind this important initiative and advocate for the industry."
Supporters can access a range of marketing resources in a dedicated toolkit on the Wood for Good website. Resources include a Wood CO2ts less mark, a press release template, timber facts, videos, animations, logos and material for social media.