Welsh environment minister visits Teifi Timber
30 January 2018
At her meeting with the forestry sector last November, the new Welsh environment minister Hannah Blythyn asked if she could go and see the sector in action. 
So on 18 January, Confor arranged for her to visit new Confor member Teifi Timber, a family-run sawmill in west Wales.
Gerwyn and Anwen Thomas are the seventh generation on the site, starting out as wheelwrights and undertakers, becoming a timber merchant, and in 1969 opening the sawmill.
Since 2015, they have invested £2.5 million in improving on-site roads, expanding accommodation and upgrading machinery.
The minister was able to see 'making a round a square' in action – trees being measured so that as much as possible is made into the valuable sawn timber, and the resulting planks being sorted by size and packaged.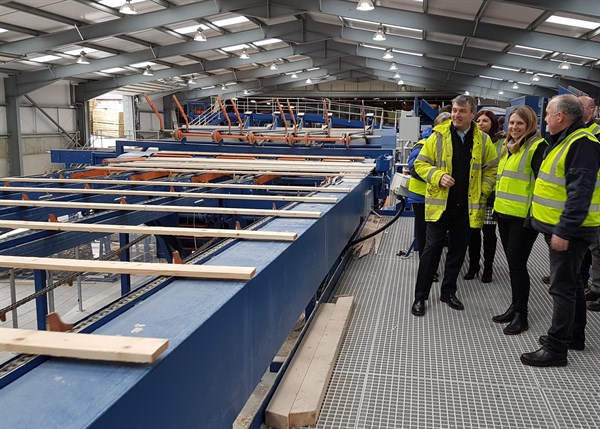 Back in the office, with tea and bara brith, we were joined by Gerwyn and Anwen's daughter Sara. We discussed with the minister how, by increasing woodland creation now, she can guarantee that there will be trees to mill for Teifi Timber's eighth generation.
The minister restated her commitment, made to the Welsh Assembly in December, to make improving and expanding the forests of Wales one of her top priorities. She discussed with Confor Wales manager Martin Bishop some of the barriers that are preventing woodland creation from happening.
The minister will visit Scotland next month to meet Fergus Ewing, Secretary for the Rural Economy and Connectivity and the sector, to discuss how tree planting has been turned around there thanks to Confor's pressure and ideas.
In 2017, Scotland planted more woodland for timber than for amenity for the first time in this millennium, and looks set to meet its target of 10,000 hectares of new woodland for the first time next planting season, the highest level since 2001.
Wales has a target to plant 5,000 hectares per year, and has been told by the Committee on Climate Change that it must plant at least 4,000 hectares a year to avoid missing its carbon targets.
Barely 4,000 hectares has been planted in Wales in the past decade, while 18,000 hectares of productive woodland has been lost on the Welsh national forest estate, through restructuring, ancient woodland restoration, and the removal of diseased larch.
Hannah Blythyn has a big task on her hands. But she has widespread cross-party support for tree planting in the Welsh Assembly, and there is a growing mood in the country to see her become 'the woman who planted trees'.