UK Government must raise game on conifer planting record
Confor has warned the UK Government that it will fail to meet its planting targets unless it makes rapid progress in getting many more trees into the ground in England. 
Stuart Goodall, Confor CEO, specifically highlighted the need to stimulate the planting of new productive forests to provide the supplies of wood needed for a future green economy.
According to new official figures, overall tree planting across the UK totalled 13,460 hectares in the year to March 31, 2020 - very similar to the 2018-19 figure of around 13,400 hectares.
This means no real progress has been made towards achieving the UK Government's ambitious target of planting 30,000 hectares of new woodland every year by 2025. In fact, in England the level of productive conifer planting actually fell to a "miserable" 230 hectares.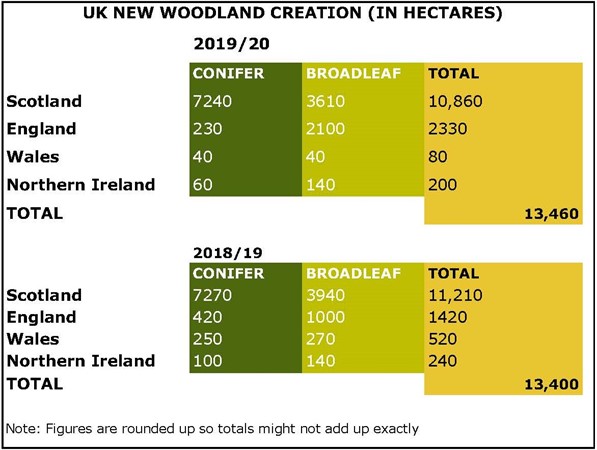 Mr Goodall said: "While we were pleased to see the UK Government commit to an ambitious planting target, these figures show the Government is way off track. The 2025 target is in line with what Confor has said is achievable, and shows that Government is listening to the Committee on Climate Change who have emphasised repeatedly that tree planting must be a key component in the fight to reduce atmospheric carbon and tackle climate change.
"However, to hit such targets will require large-scale planting of both conifers and broadleaves in England, and that simply isn't happening – 230 hectares of conifer is a miserable achievement. We need to be planting far more productive forestry if we are to reduce our global carbon and environmental footprint – the UK is the second largest net importer of timber in the world after China.
"I appreciate the 30,000 hectare target is relatively new, but I'm frustrated by the lack of movement towards it, and in particular the reversal in planting of productive trees." 
The figures showed Scotland is still planting more than 80 per cent of trees in the UK - 10,860 hectares, including around 7,570 hectares of conifers and 3,890 hectares of broadleaves. [Confor reaction to Scottish figures here]
"Without a spell of very wet weather and then Covid-19, Scotland could have hit its 12,000 hectare annual target - and I'm confident it can pick up the baton and get to that figure in 2020-21 as the momentum to plant is strong on the back of clear Government leadership and a recognition that hitting targets means planting all types of forest.
"With Welsh planting on the floor and Northern Ireland lacking capacity to increase significantly, we really need to see England (where the UK Government has direct responsibility) pulling its weight and planting many more productive forests. This is vital if it is to have any hope of meeting its targets to tackle climate change and help provide the future wood products we all need in our daily lives."
Mr Goodall said there had been some positive movement towards new productive planting in Northumberland, and hoped there would be more of a focus on this, both there and in other areas, in the year ahead.
He concluded: "2025 isn't very far away and to get anywhere near the 30,000 hectare annual target, the UK Government has to move beyond the rhetoric and start getting many more trees in the ground."