Towards a positive rural future
30 November 2017
There is significant common ground between different rural interest groups and a genuine desire to collaborate to deliver a positive future for our countryside. This was the message from Confor CEO Stuart Goodall after Confor's Westminster conference on 29 November brought together a variety of rural interests to discuss how we move towards A Common Countryside Policy.
Conference presentations (click here)  and event photos (click here) are now available!
The conference featured senior speakers representing organisations from the wider land use sector - the National Farmers Union, CLA, The Woodland Trust and WWF-UK, alongside Confor.
Mr Goodall said forestry was ready to come in from the margins of policy and funding driven by the restrictive Common Agricultural Policy (which will disappear after Brexit) to play a more central role in shaping a future which served our rural areas better.  
Richard Greenhous, Director of Forest Services for Forestry Commission England, said Brexit represented the "biggest opportunity for forestry in our lifetime through policy change". 
Minette Batters, Deputy President of the National Farmers Union, thanked Confor for staging such an important event and agreed that "a shared ambition" was vital to get a positive outcome.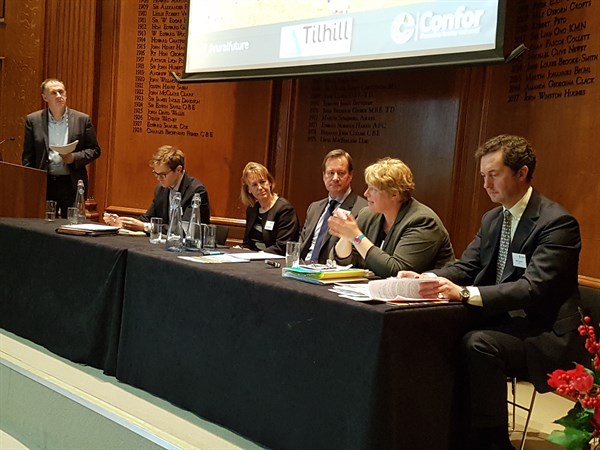 She joined a debate with Stuart Goodall, Mark Tufnell of CLA, Will Ashley-Cantello of WWF-UK and Beccy Speight of The Woodland Trust to identify common ground in future rural policy and funding structures. 
A number of key themes emerged throughout the discussion and the rest of the conference, which also heard from Forestry Minister Dr Therese Coffey, Andy Howard of the Doddington project, John Wilding of Clinton Devon Estates and Confor's England Manager Caroline Harrison before concluding with a political panel chaired by Chris Davies MP. 
Some of the central themes of the day were:
Strong political leadership is needed to design future policy fit for all of our countryside - supported by strong leadership by officials at Defra and government agencies.
Strong leadership and guidance on what will work for the countryside is also needed from rural interest groups. All of them would be expected to act in their interests of their members, but stronger results could be delivered by finding areas of common ground to collaborate.
Government reports relevant to future rural policy must be well-aligned. The Clean Growth Strategy is seen as a positive document but must be reinforced by the long-awaited 25-Year Environment Plan, due to be published in the new year and the Agriculture Bill which will follow. 
Any new system must be based on "shared ambition" rather than specific rural interests;
Future rural funding must follow positive outcomes for the countryside, rather than the input-based system of CAP. There are questions about how to identify these outcomes, and who identifies them;
An 'honest broker' would be welcome to look at the issue of positive outcomes and how to bring together different rural interests. The Food, Farming and Countryside Commission said it could potentially fill that role;
A positive trade deal after Brexit is fundamental to a thriving countryside in the future;
Only productive and prosperous rural businesses can deliver the range of positive environmental outcomes to make our countryside more sustainable;  
Inclusive language is needed - a common or holistic countryside policy rather than a system still badged with farming or agriculture; 
A new system must be based on long-term agreements, or contracts, of at least 10 years, to move away from the stop-start system of constant new deals under the CAP.
We need to start making progress on new policy now and not wait for a perfect solution, which risks carrying over the problems of CAP into a new era. Keep on talking!
Stuart Goodall said: "This was Confor's most ambitious conference to date, on the back of our Common Countryside Policy discussion paper.  
"It was great to debate the future with such a diverse range of organisations - and it was very clear that there is more that unites different rural interests than divides us. I am heartened by the desire to collaborate to come up with a future system to suit the whole of our countryside. 
"Forestry is determined to play a central role as the discussions on our rural future develop. The sector is perfectly-suited to deliver the range of positive outcomes our countryside needs to thrive in future - to benefit the economy, the environment and our rural communities."