Stalwart McRobbie wins Confor award
28 February 2018
A stalwart of the 21st century forestry and timber sector has been named as the winner of Confor's Dedicated Service to Forestry Award for 2018.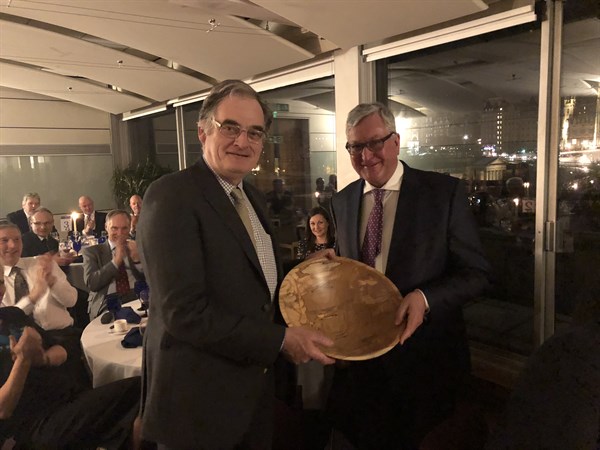 George McRobbie, Managing Director of Tilhill Forestry - and also a Confor Board member and Forestry Commissioner - was presented with the award by Cabinet Secretary Fergus Ewing at Confor's annual dinner in Edinburgh.
Mr Ewing spoke at the dinner in the week that the Forestry and Land Management (Scotland) Bill reaches its final stages in the Scottish Parliament.
Stuart Goodall, Chief Executive of Confor, said: "George McRobbie has been a significant figure in the modern forestry industry. He has stepped up to the mark to serve the sector time and time again - and always brings a wide range of skills to the table. He has enormous knowledge of forestry and valuable attributes, including integrity, diligence and tremendous common sense."
Mr McRobbie has been Managing Director of Tilhill Forestry since 2012, a Board member of Confor since 2013 and a Forestry Commissioner since 2015. He is also a former President of the Institute of Chartered Foresters.
He said: "I am delighted and honoured to win this Award. It is a privilege to serve the modern forestry industry and a pleasure to see the sector making very positive progress towards a new era of productive planting."
Mr Goodall said at the event: "At a time when society faces huge challenges, there is a big role for an emerging sector that can offer solutions and behave with integrity. But we have to tell the story – collectively get the message out there – and that means all of us working together."
Mr McRobbie is pictured receiving his award from Fergus Ewing MSP, the Scottish Government's Cabinet Secretary for Rural Affairs and Connectivity. 
Previous winners of the award include Tom A Bruce Jones, Colin Mann and Dr Jean Balfour. Read about the previous winners here.