SNP backing for Confor's Forestry and Wood Manifesto
27 April 2021
The SNP has given its backing to planting millions more trees and using more wood in construction to continue Scotland's 21st century forestry success story.
Fergus Ewing, who was Cabinet Secretary for Rural Economy in the last parliamentary session, signed up to a pledge that the party will plant 40 million trees every year by 2030 - up from around 22 million at present. 
Mr Ewing and Drew Hendry, a senior SNP MP, backed Confor's five-point manifesto for May's Scottish Parliament elections, Building A Greener Future.
They showed their support for the industry on a visit to Gordon Timber in Nairn, a family-owned business which is a member of Confor.
As well as voicing support for a large increase in woodland creation and greater ambition to use wood in construction, the SNP politicians backed further investment in forestry and wood processing skills, timber transport and innovation.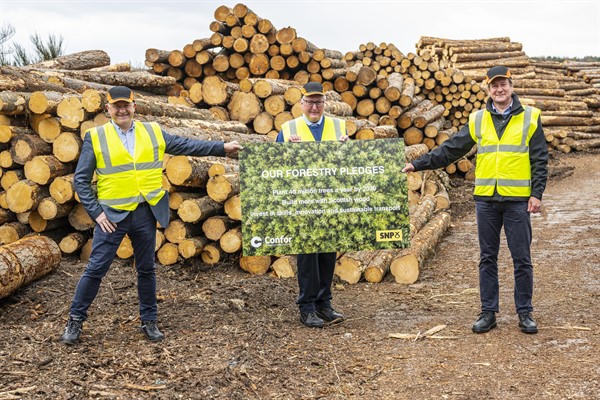 Stuart Goodall, CEO of Confor, who met Mr Ewing and Mr Hendry at the mill, said: "Scotland is delivering 80% of all new woodland creation in the UK and is the only part of the UK to have set specific targets for wood use in construction. 
"Confor's manifesto is all about locking in those pledges - and the massive benefits they deliver - for the long term, and supporting the rapid growth of the industry with the skills, innovation and transport required. I am delighted the SNP supports this agenda." 
Fergus Ewing, an MSP since the creation of the Scottish Parliament in 1999 and SNP candidate for Inverness and Nairn in May's poll, said: "Forestry and wood processing is a crucial part of Scotland's rural economy, supporting well over 25,000 jobs and delivering £1 billion of economic value each year.  
"The industry is also vital in our move towards Scotland's world-leading climate change ambitions. This combination of economic and environmental benefits is crucial to Scotland's future and we need to support the sector in every way we can."  
Mr Ewing added that it was vital to maintain high industry standards and a balance of land use between forestry and farming. 
The SNP has pushed up its annual tree planting targets to 18,000 hectares annually by 2025 and Confor has suggested that by 2030, this could reach 20,000 hectares annually (about 40 million trees). Its manifesto also asks for the target of using 3 million cubic metres of wood in construction each year by 2031-2 to be reviewed annually - with the aim of hitting the target by 2030. 
Drew Hendry, SNP MP for Inverness, Nairn, Badenoch and Strathspey, added:
"Forestry supports rural growth and jobs in family-owned businesses like Gordon Timber, and can lead Scotland's green recovery from the pandemic. It can also help us enormously in our journey to net zero by 2045."
The pledge card supported by the SNP says: 
OUR FORESTRY PLEDGES 
Plant 40 million trees a year by 2030
Build more with Scottish wood
Invest in skills, innovation and sustainable transport 
Confor's analysis of the parties' forestry and wood commitments for the 2021 Scottish elections can be read here.
Picture: Stuart Goodall, CEO of Confor, is pictured with Drew Hendry, SNP MP (left) and Fergus Ewing (centre), SNP candidate for Inverness and Nairn at May's Scottish Parliament elections.