Plant trees – or face higher energy bills
28 June 2018
A new report by climate change experts says tree planting needs to increase significantly if UK emissions reduction targets are to be met - and to avoid rising energy bills.
The Committee on Climate Change (CCC) identifies enhanced tree planting as a "simple, low-cost option" to get targets on track - but says planting rates are two-thirds lower than needed.  Failure to plant more trees will increase the cost of decarbonisation and energy bills, says the report, Reducing UK emissions – 2018 Progress Report to Parliament. 
Confor, the UK's forestry and wood-using trade body, welcomed both the CCC emphasis on tree planting and its call for the UK Government to meet its targets for new forest creation. 
The current commitment is to plant 11 million trees in England between 2017 and 2022 (equivalent to just over 2,000 hectares per year) and remove barriers to faster tree planting.  However, in 2017, while 15,000 hectares (ha) of trees should have been planted across the UK, only 8,800ha were planted, 80 per cent of them in Scotland. 
The CCC report says: "A lack of action on forestry has led to a flat-lining of net carbon sequestration from forests over the recent past." It continues: "It is also important for stimulating private sector investment to come forward given Defra wants the private sector to take the lead role in meeting the 12 per cent [woodland cover in England]  target by 2060." 
The report says non-financial barriers to planting are holding back progress in England in particular.  It praises DEFRA for action taken so far but says much more needs to be done.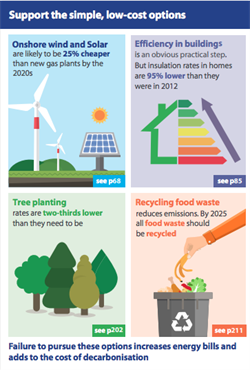 Stuart Goodall, Chief Executive of Confor, said: "Planting rates in England have been very disappointing, but there are signs of a more concerted effort to improve things.  
"England can achieve the tree planting it needs to meet climate change targets, while delivering substantial benefits for the rural economy. The key is a change in mindset towards planting applications - to look for the good things in these schemes, not always the negative, to recognise the environmental necessity of tree planting and to approve larger schemes much more quickly. 
"It is encouraging that the Committee on Climate Change wants more done to stimulate private sector investment.  One way to drive this forward is through the Government's plans for Forestry Investment Zones (FIZs), announced as part of its Clean Growth Strategy and 25 Year Environment Plan.  However, since the initial announcement, progress has stalled and we need to see action.  While Confor and others have sent detailed proposals to the Government, there has not been a coherent response with an England-wide action plan for FIZs that would match the CCC's ambition." 
Confor's Manager for England, Caroline Harrison, welcomed the inclusion of harvested wood products (HWP) in the carbon inventory. "This suggests that incentives should focus on forests that maximise long-lasting products made from sawn timber (such as timber for houses, fencing, decking and furniture) rather than just broadleaves, which are primarily harvested for firewood. 
"Michael Gove has said he wants a Green Brexit with a big increase in tree planting in England.  This report is the latest in a long line pointing out that DEFRA is simply not going to meet its already modest targets unless there is a step change in approach to the afforestation of England.  
"The appointment of Sir William Worsley as Tree Champion is a big step in the right direction but England desperately needs more trees in the ground now.  It needs to move on Forestry Investment Zones - and Confor will work closely with Sir William and the government to put the FIZ back into the English countryside."