New FC chief stresses need for more home-grown wood
22 September 2021
The Forestry Commission's new Chief Executive has stressed the need to reduce timber imports on a visit to a large wood processing site.
Richard Stanford made the comments on a tour of EGGER's Hexham plant, to highlight the strong and long-standing partnership between woodland creation and wood processing in the North-East. 
Mr Stanford said: "I was delighted to be able to visit EGGER and see a large wood processing facility at close quarters. Manufacturing sites like this are significant rural employers and a crucial part of the forestry and wood supply chain in the North East.
"The UK is the second largest importer of timber in the world, with 80% of timber and timber products coming from abroad. The Forestry Commission is working with landowners and stakeholders to try to reduce this reliance on imports. At the same time, companies like EGGER are working hard to increase the amount of recycled wood in their products. 
"The Forestry Commission is committed to using our collective expertise to ensure England's trees thrive for future generations, both for nature and for people."
The site has been making chipboard since 1963 (EGGER took over in 1984) and was located in Hexham to take timber from Kielder Forest, which is managed by Forestry England.
Mike Yerbury, Director of Forestry at EGGER, which is a Confor member, said: "There is a powerful and historic link between Kielder, England's largest forest, and our Hexham site and we are committed to continuing that partnership. EGGER needs a consistent and significant supply of wood to make our products and our aim is to source that from local, sustainably-managed forests.
"This is why we want to continue working with the Forestry Commission, along with others in the forestry and wood industry, to ensure a strong future timber supply in the region. Kielder has been the North-East's timber basket  for many decades and we would like to see that complemented with the establishment of further areas of new woodland creation which will bring a diversity of benefits for the communities in the region." 
He added: "We have invested more than £100 million in our Hexham site over the last 10 years and that investment - which has created and protected hundreds of jobs - has been founded on a secure, long-term future wood supply. We are fully supportive of a wide variety of forest and woodlands being created, based on the mantra 'right tree in the right place for the right reason' - but this needs to include forests planted for timber production.
"However, it is not about either-or decisions; timber-producing forests can also deliver habitats for wildlife, places for people and benefits for climate change. It's a win-win-win situation for the environment, economy and society."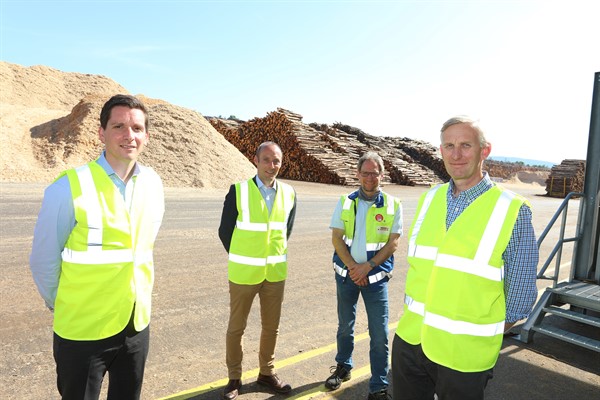 * Pictured above and in banner, L-R: Jonathon Stephens, Plant Manager: Finance-Administration, EGGER; Mike Yerbury, Director of Forestry, EGGER; Tobias Zimmermann, Production; Technical Director, EGGER; and Richard Stanford, Chief Executive, Forestry Commission. 
* Read more about future plans for woodland creation in Northumberland in the October issue of Forestry & Timber News - out soon!