Long-serving staff and retiring CEO honoured by Glennon Brothers
4 March 2019
Glennon Brothers has celebrated the career of David Rodger, Chief Executive of Windymains Timber, at a function to mark his retirement - and honoured the long service of eight employees with a combined 250 years of service with the company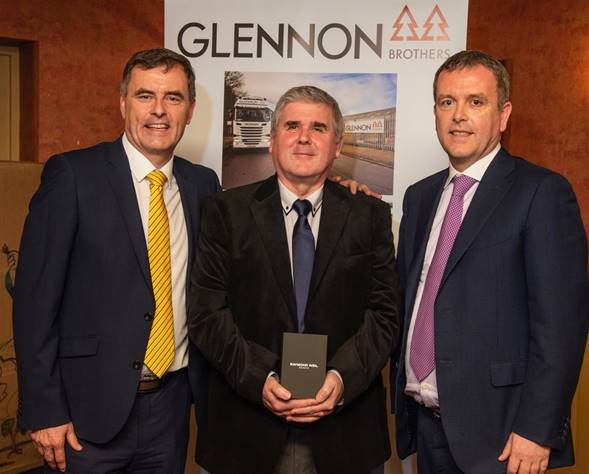 Mr Rodger began his career in forestry in 1973 with Riddochs, before spending several years in senior positions with BSW. He joined Glennon Brothers in 2006, as Chief Executive of Windymains in East Lothian. He played a key role in the acquisition of Adam Wilsons & Sons by Glennon Brothers in 2008. Pat Glennon, Joint Managing Director, praised Mr Rodger's commitment, expertise, and loyalty and acknowledged his enormous contribution to Glennon Brothers.
At a separate event at the Longford Arms Hotel in Longford, Ireland, eight staff - John Campbell, Brendan Cosgrove, Gerry Cox, Greg Glennon, Breda Heaney, Larry Mullins, Seamus O Neill and Geraldine Reehill - were honoured for their long service. Each individual was presented with a hand-crafted sculpture of bog oak, dated to 3,300-3,600BC. Entitled "Great Oaks From Little Acorns Grow", the scupltures symbolise the strength of the relationship between each recipient and Glennon Brothers and recognised their contribution to the overall growth of the company.
Mike Glennon, Joint Managing Director, acknowledged "the legacy of great contributions from people who were no longer with us and who had dedicated their working lives to Glennon Brothers. Without these contributions, Glennon Brothers would not have survived the many challenges it has faced over its 100 years".
For full details, go to the news section of Glennons' website