Guy Watt wins annual Confor award
27 February 2019
One of the most respected figures in the modern forestry industry has won Confor's prestigious annual award for Dedicated Service to Forestry for 2019.
Guy Watt, Managing Director of John Clegg Consulting Ltd, has vast experience across the sector and his contribution was described as "unparalleled". 
He was presented with the award at Confor's annual dinner at the Sheraton Hotel in Edinburgh by Fergus Ewing, the Scottish Government's Cabinet Secretary for Rural Economy.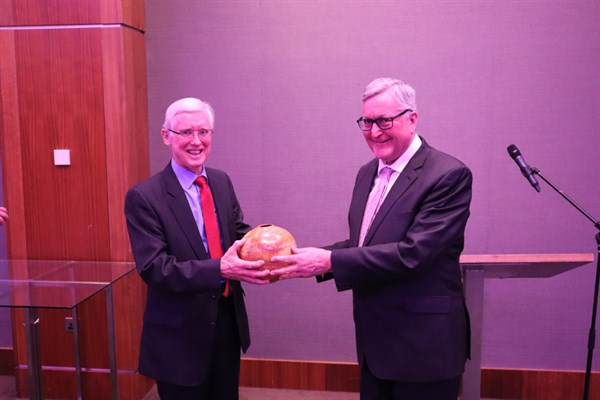 Stuart Goodall, Chief Executive of Confor, said: "Guy has huge experience and is highly respected across the forestry and timber sector - and has made a unique contribution. His background in analysis and statistical reports is unparalleled. 
"The sheer number and range of trusteeships and appointments he has held is testament to the high regard he is held in by so many in the private and public sectors. Guy is the 'go to' person for analyses of future wood supply and availability and is currently working on a keenly awaited update for Confor. His position in the sector is unique, his contribution immense." 
Guy Watt said: "This is totally unexpected. I'd like to thank all those people I have worked with - it has been an absolute pleasure. One of the great things about this industry is that the people are so nice. Even when companies have faced difficult times, they pull together and get through." 
Mr Watt studied forestry at Aberdeen and worked in the South Pacific for two years and for four years at the Forest Research Institute, New Zealand. In the UK, he was forest economist for EFG for 10 years, followed by 13 years with John Clegg & Co. where he was a partner before starting John Clegg Consulting Ltd. in 2003.  He is also a partner in Timber Auctions, a Trustee of Scotland's Finest Woods Awards, a Fellow of the Institute of Chartered Foresters and a Member of the Institute of Economic Development. He has been Chairman of the Scottish Forestry Trust and Scottish Hardwood Timber Marketing Group, as well as Vice Chair of the Central Scotland Forest Trust.  
Earlier, Fergus Ewing told guests that conditions for growth and success in the forest and timber sector have "never been better" - and announced a range of measures by the Scottish Government to invest in the future of forestry to help boost further growth in the sector, including:
£7 million for timber transport projects across Scotland – up from £2.85 million in 2016;
£20 million on replanting across the National Forest Estate by Forestry and Land Scotland, which will also guarantee the supply of around a third of all timber supplied in Scotland;
Building and upgrading 200 km of forest roads on the National Forest Estate to allow better access to timber ; 
£7 million in deer management on the National Forest Estate to protect trees and the environment. 
Mr Ewing said: "2019 is a pivotal year as we are celebrating 100 years of public forestry - and introducing the foundations for the next 100 years through full devolution of forestry, new legislation and the creation of two new agencies." 
Mr Ewing welcomed Simon Hodgson, new Chief Executive of Forest Enterprise Scotland (which will become Forestry and Land Scotland on April 1), as well as Jo O'Hara, head of Forestry Commission Scotland, who will become Chief Executive of Forestry Scotland on April 1. 
"We are entering a new era for forestry with the implementation of the Forestry and Land Management Bill," Mr Ewing said. "We need a Team Scotland approach so we can address any issues with other government departments." 
Mr Ewing said the new Forestry Strategy had been very well-received - "and now we need to get on and deliver it".  
He added: "Forestry is a long-term business and requires long-term funding to match that and sustain investor confidence. We have cross-party agreement on that and need to make sure we get the budget every year. I have got big ambitions for the sector. You are all doing terrifically well and I'm pleased to announce the Scottish Government has protected the budget for forestry grants this year. We are investing in IT and have an increased budget for timber transport." 
Mr Ewing made one plea to the industry -  to keep investing in young people to secure the future of the industry. Forest Enterprise Scotland had taken on 8 new Modern Apprentices from more than 350 applications, he said. 
He concluded: "The future of forestry looks more positive than it has for a long time. Thanks to everyone for your part in that story - and the greatest successes are yet to come." 
* Confor Chairman Athole McKillop paid tribute to Tom A Bruce Jones, who won the Dedicated Service to Forestry Award two years ago, but died in January. A memorial service will be held in Glasgow this Friday for the man described as "a towering figure in the modern forestry industry". Mr Bruce Jones was Managing Director of James Jones & Sons, the first Forestry Commissioner from the wood processing sector, Chairman of Scottish Woodlands Ltd and the founding Chairman of Confor.