Forestry at heart of Westminster agenda
26 October 2017
Confor's efforts to ensure forestry remains firmly on the political agenda paid off this week with a commitment by the Prime Minister to meet tree planting targets - and a feature on BBC Radio 4's Today programme.
Stuart Goodall, Confor's Chief Executive, was involved in setting up the radio broadcast and was interviewed by the Reality Check, team, along with Justin Mumford, from Confor member Lockhart Garratt.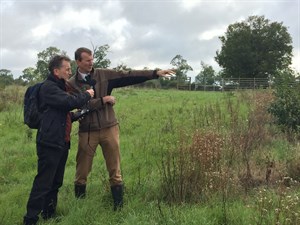 The feature (read it here or listen here - from 49,00-54,00) stressed that the UK Government needs to "dramatically speed up planting to meet the target" [of 11 million trees by 2020 in England]. 
"There's a big need to plant trees both to provide a future supply of wood for the sawmilling industry in 20 years' time," Mr Goodall told the programme, "but also to hit our climate change targets - we need to lock up carbon. We're failing on both those counts."   
The programme was broadcast today, less than 24 hours after Anne-Marie Trevelyan, Vice-Chair of the All-Party Parliamentary Group on Forestry, asked Theresa May about the Government's commitment to planting at Prime Minister's Questions. 
Mrs Trevelyan, MP for Berwick-upon-Tweed, asked specifically about the 11 million target, linking it to the need to use more home-grown timber for housing, natural carbon capture and reduced flood risk. 
The Prime Minister said the commitment was "at the heart of our work to protect the environment for future generations". 
The full question and answer is below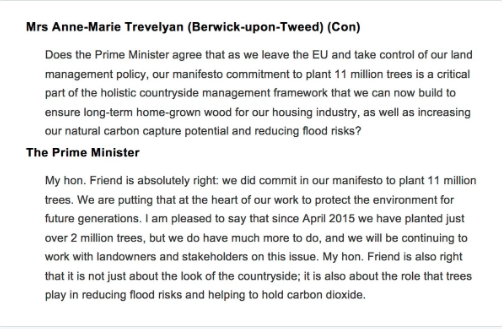 Stuart Goodall said: "Confor has worked tirelessly to explain the economic, environmental and social benefits of forestry to the UK Government and the devolved administrations - and the need to drive up planting rates. 
"I'm delighted the issue was raised at PMQs. Anne-Marie Trevelyan is a great supporter of the forestry industry and chaired Confor's joint event with The Woodland Trust at the Conservative Party Conference last month. 
"It is also positive to see the BBC Today programme covering the planting issue. However the fact remains that planting rates are still far too low and that we face a damaging timber gap from the late 2030s unless more action is taken. That gap must be filled - to protect jobs, the environment and rural communities. 
"Confor will now re-double its efforts to make sure politicians understand the huge benefits of planting trees - and create a policy environment which allows that to happen." 
Part of Confor's efforts to keep forestry in the political spotlight includes its Westminster conference on November 29th, which will hear from Forestry Minister Dr Therese Coffey. 
"Confor has published its discussion paper Towards A Common Countryside Policy, which will help shape the discussions at the conference," said Mr Goodall. "This is an ambitious event where farmers, landowners, foresters and environmental organisations will come together to discuss future rural policy and funding and identify where we might find common ground. 
"Forestry has a central part to play in our rural future and Confor will continue to advocate the wide-ranging benefits of the sector, while working with all partners to build consensus on a brighter future for all our rural communities."