Forestry at heart of big policy discussions
28 September 2017
"Forestry and wood is now firmly at the heart of policy discussions about land use, climate change and house building in Scotland", said Confor Chief Executive Stuart Goodall after the conference From Trees To Timber Homes, which took place in Edinburgh yesterday.
Ahead of the event, Mr Goodall presented Fergus Ewing MSP, the Scottish Government's Cabinet Secretary for Rural Economy and Connectivity, with Confor's new discussion paper, A Common Countryside Policy. The paper calls for a broader approach to rural policy and funding, reflecting all land uses, rather than focusing primarily on farming as the Common Agricultural Policy has done.
 "The big opportunity comes if we look at forestry as part of the broader rural community in terms of how it benefits the economy, delivers on climate change targets and provides other benefit like increased biodiversity and enhanced flood management," said Mr Goodall.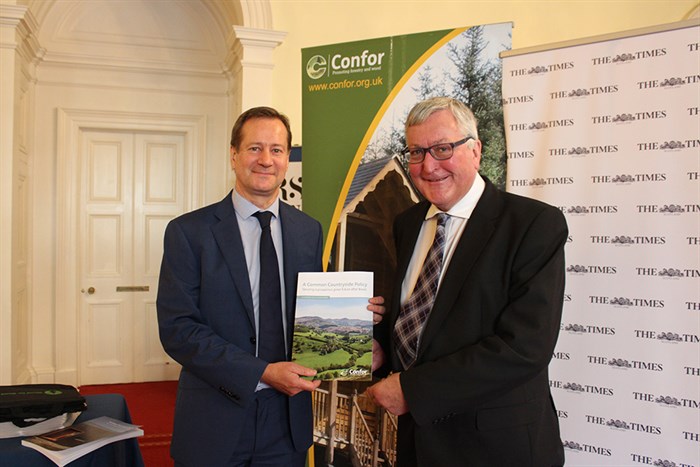 Prof Davy McCracken of SRUC
backed the call for a more joined-up land use policy in Scotland. He told conference delegates: "There is currently a disjoin; different land uses are pulling against each other. We need to be trying to deliver some more multiple benefits. We need to see much more integration.
 "Can we create a joined-up land use strategy? Scotland is much closer than the rest of the UK because we already have more joined-up thinking."
Confor's Stuart Goodall
told conference delegates that Scotland could lead the way in building more warm, attractive and high-quality homes from domestic timber if positive collaboration between foresters, wood processors, architects and house builders continued to gather pace. "We are right in the heart of big policy debates and this event was extremely important in bringing a wider range of delegates together to talk about tree planting, house building, climate change and land use policy as part of a joined-up discussion.
 "People within the forestry and timber industry know about the multiple benefits that it can deliver - and this event was all about having that conversation with a much broader audience."
Fergus Ewing MSP
told delegates: "People love wood, they want wooden homes and we should be overcoming the barriers and challenges [to deliver that]."
 The Cabinet Secretary said increased tree planting targets were a big part of this and more productive planting was needed to maintain the momentum created by a strong timber supply over the next 10-15 years.
"We have revised our approach to new woodland creation," said Mr Ewing. "I expect to achieve our 10,000 hectare annual target soon and we have increased that to 15,000 hectares by 2025. There is cross-party support in the Scottish Parliament for more planting so people making investment decisions know there won't be an abrupt shift in policy.
 "We are implementing all recommendations in the Mackinnon report [to speed up planting approvals] and the new Forestry Bill will include a new forestry strategy. I'm excited about using more high-quality, home-grown timber in construction and offsite construction is on an upward curve." 
 Mr Ewing said planting targets were linked clearly to policy objectives - tackling climate change and using more home-grown timber. The ambition is to use 3 million cubic metres of domestic timber annually by 2023, from 2.2 million cubic metres now. Stuart Goodall welcomed this, saying although three-quarters of homes were built with timber frames in Scotland (against 22 per cent in England), only around one-third were built using Scottish timber.
Calum Murray of CCG Scotland
highlighted the strength in offsite timber construction in Scotland, now worth around £250 million per year, with an ambition to grow to £650 million by 2025. "Scotland is a market leader and there is a tremendous opportunity," he said. 
Murray said Scotland had the "skills and capability" to develop a mass offsite timber construction base. Businesses were already collaborating effectively through Offsite Solutions Scotland, a group of nine timber-using construction businesses, including CCG, Makar Homes and Carbon Dynamic, who all spoke at the conference.
Mr Ewing said the Scottish Government was "totally committed to growing the forest area" with "lots of opportunities for more plantations". He said the planning system was more amenable to using timber, with officials "giving clear direction". He said he had spoken directly to planners in areas where new forests are most likely to be sited and it was a partnership approach: "Councils have democratic responsibility but we have to get on with it and see more forests. Planting applications are up [across Scotland] and productive applications are up too."