Forestry and timber is 'bedrock of local economy', says MSP
1 May 2018
A Green MSP has visited one of the UK's most modern sawmills to hear about the contribution made by forestry and wood processing to the economy, environment and communities of rural Scotland.
Confor arranged a tour for John Finnie MSP at BSW's mill in Fort William, which employs 200 people and supports around 600 jobs in the wider economy in Lochaber. Across Scotland, forestry and wood processing provides more than 25,000 jobs and contributes £1 billion to the economy every year.
Mr Finnie, a Green list MSP for the Highlands and Islands, said: "The forestry and timber sector is a bedrock of our rural economy and has a unique character – because more economic activity means more environmental benefit. Growing trees soak up carbon, which is then stored in wood products. Wood is the ultimate sustainable material as forests are planted, harvested by the next generation and then re-planted.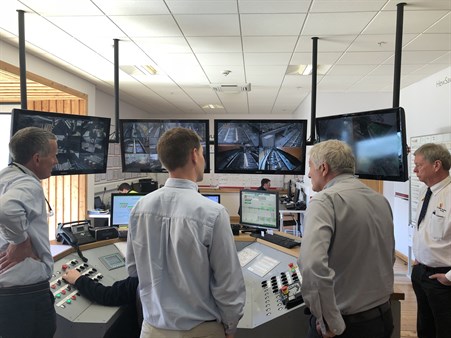 "It was great to see the circular economy in action and to understand more about how we need to secure the future of these vital rural businesses by planting more trees."
Stuart Goodall, Confor's Chief Executive, who accompanied Mr Finnie on his visit, said: "It is really important to get politicians out to see the modern, hi-tec and sustainable face of our industry. They are always impressed to see just how far wood processing and forestry has come and how much it contributes to rural growth and employment and to policy targets, especially in terms of climate change."
Olly Stephen, who manages the Fort William mill for BSW, said: "BSW is a family business and has had the Brownlie family steering the business since 1848. While retaining the values of a family business, BSW has invested continually in modern processing capacity in its sawmills and our Fort William mill is among the most modern in Europe. We are always proud to show off our investment in modern forestry to politicians and to stress that we need to continue increasing tree planting rates to ensure we have the raw material to deliver the timber we need for future generations." 
Banner image line up: Andy Rogers, development manager, BSW; Olly Stephen, mill manager, BSW Fort William, John Finnie MSP, Stuart Goodall, CEO, Confor.