First Minister's praise for forestry
23 June 2017
A Confor Board member has said there has never been a better time to plant trees in Scotland in the the modern era - at an event where First Minister Nicola Sturgeon highlighted the contribution of the £1 billion forestry and timber industry.
Raymond Henderson, a Partner with Bidwells, said he was very encouraged by the Scottish Government's commitment to new woodland creation.
In January, the current target of 10,000 hectares of new planting each year was raised to 15,000 hectares per year by 2024-25 by the Scottish Government.
Speaking at a Bidwells-Shepherd+Wedderburn breakfast event at the Royal Highland Show in Edinburgh, Nicola Sturgeon said: "Forestry in Scotland is already worth around £1 billion per year. It supports more than 25,000 jobs, helps us to meet our climate change targets, and contributes to the wellbeing of communities across the country.
"And we also have ambitious plans for the future - more than three-quarters of new woodlands created in the UK last year were planted in here Scotland. And we want to do even more to meet the targets that we have set ourselves.
"The new legislation [the Forestry and Land Management (Scotland) Bill] provides a framework which will help us do that and it is a further sign of that commitment to forestry, and our determination to ensure that it delivers economic, environmental and social benefits to the country."
Mr Henderson stressed that "Change is inevitable, adaptation is crucial" as he highlighted the great opportunities for planting created by a supportive policy environment.
Confor Chief Executive Stuart Goodall, who attended the event, said: "It is great to hear such a positive message from the First Minister, reiterated by a Confor Board member. Confor continues to raise the profile of the whole sector through the media and meetings with politicians, and it is great to see recognition of the importance of the sector from the First Minister. 
"On the day of the First Minister's comments, I also met the Catalan Agriculture Minister Meritxell Serrett, to discuss land use issues of mutual interest.
"And in the first two days of this week, Confor has organised a mill visit for an MSP and is meeting the UK forestry minister Dr Thérèse Coffey near Edinburgh. It is this wide-ranging and continuous engagement that is vital to help secure support in Scotland as we aim to grow our £1 billion industry into a sector worth closer to £2 billion, creating more jobs and delivering even more benefits to our environment and society."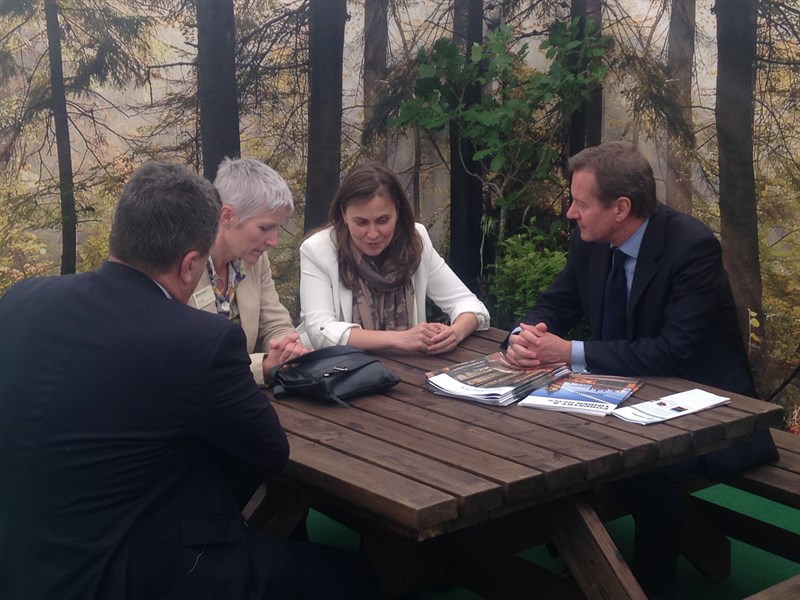 Stuart Goodall and Jo O'Hara of FCS in a meeting with Catalan Minister Meritxell Serrett