Essay and video prize winners announced
31 March 2020
The winners of Confor's #TheFutureisForestry essay and video awards were announced today- with Jenny Knight of the University of Birmingham picking up the essay prize and Dan Haslam (Scottish Woodlands) winning for best video.
The awards were due to be presented at Westminster by Defra Minister Lord Goldsmith today (24th March), but the event was cancelled due to Covid-19 - after initially being delayed from last November when the general election was called
The essay-writers and film-makers were asked to tackle the question (in up to 1500 words or a short film): 'How can farmers and landowners be motivated to plant more trees to deliver a wide range of benefits, especially mitigating climate change? 
Jenny Knight, a Doctoral Researcher in Geography and Environmental Science at the University of Birmingham, won the essay prize by challenging the premise that farmers and landowners need to be motivated to plant trees and saying they just needed more support to make it happen.
Judges said: "Jenny set up the context for the discussion quickly, then questioned the question - and delivered a very coherent and persuasive argument as to how we can move forward, focused on relationship-building, communication and challenging perceptions. She identified very specific logistical challenges to planting at a local level, plus problems of knowledge and funding."
The video by Dan Haslam and colleagues from Scottish Woodland Ltd, put a forestry and wood spin on Monty Python's famous sketch "What Have the Romans Ever Done for Us?" - explaining the wide-ranging benefits of tree planting. Watch it here.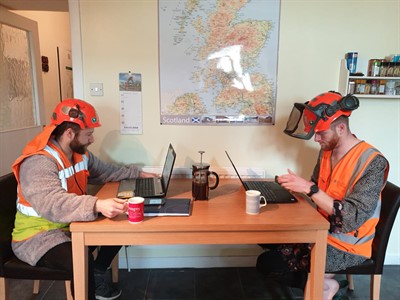 Runner-up in the essay prize was Alex Malkin, ex-Tilhill Forestry, now working at Norbury Park, Staffordshire. Ellen Humphrey of Coed Cymru was placed third. Three entries were highly commended in a very high-quality competition: Nathan Adams, a Bangor University Masters student who works with Focus Consultants; Jay Williams, former Masters student, Harper Adams University; and Maeve Wright, of legal firm Anderson Strathern.
The runner-up in the video prize was Pippa Paterson, former Graduate Rural Surveyor with Davidson and Robertson (film here), while film-maker Chris Court was third: watch here.
The Awards were sponsored by Tilhill, BSW Timber and Forestry Commission.
Stuart Goodall, Confor CEO, said: "It was disappointing to have to postpone the awards and then cancel them after such a strong set of entries. However, we are delighted to reward Jenny, Alex and Ellen for their excellent essays and Dan and the team, Pippa and Chris for their videos. The current crisis will throw up long-term challenges for forestry and the rural economy and it is great to see such creative thinking going on.
"I'd also like to thank sponsors Tilhill, BSW and Forestry Commission for their superb support at a very challenging time."
The winning essays will be published in FTN over the coming months, and both the essays and videos will be made available on the Confor website.