Confor sponsors new Nature of Scotland Award
4 March 2020
Confor has agreed to sponsor a new Forest and Woodland Award in the RSPB's Nature of Scotland Awards 2020 - as part of a broader positive working relationship between the two organisations.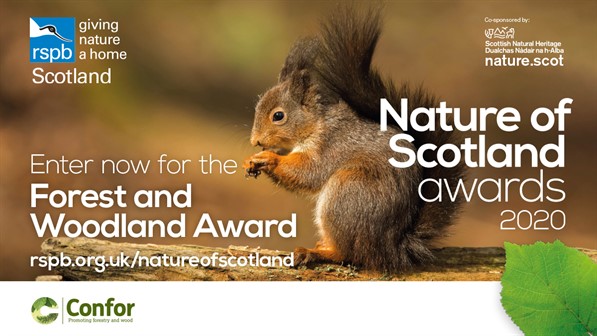 The high-profile Awards programme - which celebrates the "inspiring people, projects, groups and organisations across different aspects of nature conservation in Scotland" - was formally opened for entries this week.
 Stuart Goodall, Chief Executive of Confor, said: "We are delighted to be sponsoring this new award, which celebrates sustainable forestry and woodland champions.
 "Our involvement reaffirms Confor's commitment to positive partnership working. Our approach is to engage with groups interested in Scotland's natural world and identify areas where we can work together constructively and tackle challenges collaboratively, with the aim of promoting more planting and sustainable woodland management. I'm really pleased that we are involved in the Awards and look forward to working with RSPB on this and a range of other projects."
 "There are many examples of Confor members planting and managing excellent, multi-purpose woodlands and I would encourage them to consider entering this award so we can showcase modern forestry on a high-profile stage"
 The Forest and Woodland Award is open to individuals, businesses, communities or organisations who are creating and/or managing woodlands.
 The description of the award says: "Whoever you are, you will be going above and beyond standard practice, and placing nature and wildlife at the heart of your activities. You might be a wildlife-friendly forester, a community making the most of your local woodlands or a farmer and other land manager exploring innovative new approaches which bring benefits for wildlife and people. Applicants with forests and woodlands of all types and scales will be considered, from small woodlands or urban planting schemes through to landscape-scale projects."
To find out more about the Awards, click here