Confor fights for 'missing' 5 million trees
22 August 2017
Confor has promised to maintain the pressure on the UK government to increase planting rates in England after latest figures showed the 2015-2020 target could be missed by FIVE MILLION trees.
Latest quarterly statistics showed that less than 2.3 million trees had been planted between the May 2015 election and the end of June 2017 - only just over half the 4.4 million needed during that period to hit the 11 million target. 
If the current planting rate continues, fewer than six million trees will have been planted by May 2020, a deficit of more than five million trees. 
Stuart Goodall, Confor's Chief Executive, said: "The latest planting figures demonstrate that we need a step-change in activity, a completely new attitude towards tree planting by officials. 
"Since the June election, we have had a number of positive meetings with forestry minister Thérèse  Coffey and she has demonstrated a real desire to turn things around. That government level support needs to be actioned on the ground if we are to find those missing five million trees….and more.
"We have consistently raised this issue with ministers and offered solutions, including the Woodland Creation Planning Grant that has unlocked interest in large productive planting schemes for the first time in decades. At our request, Forestry Commission recently organised a meeting of agents and officials across the Defra family to identify remaining barriers and find ways forward."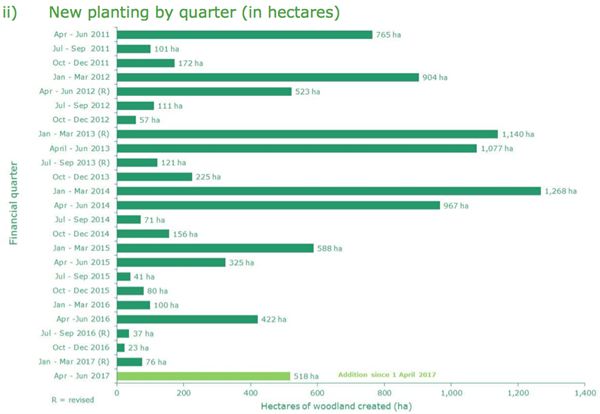 (Forestry Commission England Headline Indicators Update 30 June 2017) 
Confor will continue maintaining the profile of this vital issue at a series of major events in the autumn, engaging directly with the Defra ministerial team:
* A round-table discussion on wood supply with Environment Secretary Michael Gove;
* Engagement with Conservative MPs and ministers at the Conservative Party Conference in October in Manchester;
* A policy conference at Westminster on November 29th, with Dr Coffey speaking and the event concluding with a political panel discussion.
Mr Goodall said the five-point plan outlined in Confor's election manifesto Planting The Future, published ahead of June's election, was a clear and positive blueprint for change. Its recommendations included ending the chaotic three-agency system for considering planting applications, reducing the bureaucracy around the application process and treating forestry equally in land use decisions. 
"Achieving targets also requires officials to see tree planting as a positive activity, and find reasons to support it, not look for the negatives, which is often the case at the moment", added Mr Goodall.
"We are really ramping up our campaigning at this crucial time for the future of our countryside. That means linking our continuing campaign for new planting with our call for an integrated approach to countryside policy after Brexit - we will have a new discussion paper out very soon - and our work in the devolved administrations.
"In Scotland, we have a policy conference in September which links the Scottish Government's ambition to increase tree planting rates and creating new low-carbon homes.
"Confor remains committed to leading the debate on the future of forestry and how we can secure a sustainable future for an increasingly valuable rural industry. Pressing for increased planting, alongside protecting our productive resource, is absolutely central to that approach."