Deadline nears for new forestry awards for 2020
13 January 2020
Three new awards are to be presented at Confor's expanded Forestry Dinner & Awards Evening 2020 - with a deadline for entries on Tuesday 28th January.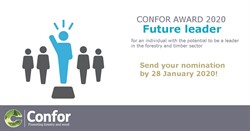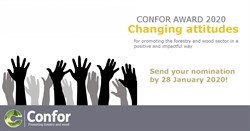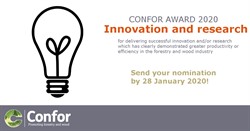 Along with the well-established Dedicated Service to Forestry Award, there are new awards for leadership, innovation and communication - to be presented at The Sheraton Grand Hotel in Edinburgh on Tuesday, 25 February.
Confor CEO Stuart Goodall said: "The Dedicated Service to Forestry Award is the premier industry award, but we wanted to reward excellence more widely.
"The new awards reflect three key pillars needed to make any industry successful; great leadership, constant innovation and brilliant communication. We want the industry to make nominations for the new awards, to ensure we find some truly worthy winners."
The three new awards are:
Future Forestry Leader Award – to an individual with outstanding skills, who has the potential to be a leader in the forestry and timber sector - someone showing initiative, passion and making a real difference to the sector - sponsored by James Jones & Sons Ltd.
Changing Attitudes Award - to an individual or business promoting the forestry and wood sector in a positive and impactful way - through personal engagement, campaigning or communication, social media or other ways - sponsored by Scottish Woodlands Ltd.
Innovation and Research Award – to a business or individual delivering successful innovation and/or research which has clearly demonstrated greater productivity or efficiency in the forestry and wood industry - sponsored by Forestry Commission and Forestry & Land Scotland.
"The new awards build on the success of the 2019 dinner and the positive growth of the industry," Mr Goodall added. "We are delighted to be able to award these new prizes, thanks to great support from our sponsors James Jones & Sons, Scottish Woodlands, Forestry & Land Scotland and Forestry Commission."
Fergus Ewing MSP, Cabinet Secretary for the Rural Economy for the Scottish Government, is guest of honour at the dinner, alongside Sir Harry Studholme, who is stepping down as chair of Forestry Commission.
The evening will start with a drinks reception at 715pm, with dinner commencing at 8pm.  Dinner will be followed by the presentation of the awards. See the link below to book.
HOW TO NOMINATE 
If you wish to nominate someone for one of these Awards, please send the following details via email to stefanie.kaiser@confor.org.uk no later than 28th January 2020. 
Name of person nominated: 
Organisation and job title of person nominated: 
Which Award you are nominating them for:
Reason for nomination (summarise in 150-200 words, adding any relevant links if necessary) 
Name, mobile number and email address of person nominating