BSW provides logs for Greenpeace Glastonbury project
4 July 2019
Greenpeace has used 2500 UK-grown logs - donated by Confor member BSW Timber - for an educational installation at this year's Glastonbury Festival.
The logs were used for BEAM, a "multi-sensory experience" designed by award-winning artist Wolfgang Buttress - best-known for his Hive sculpture in Kew Gardens, which highlights the importance of bees in our ecosystem.
Buttress said: "In creating BEAM, we hope to communicate the intrinsic relationship between bee and human, promoting the vital role that honeybees play in pollinating 30 per cent of the food we eat whilst educating people on the challenges that bees face in today's climate."

This display involved 'accelerometers' inside a colony of black bee hives located in Worthy Farm at Glastonbury, which monitored the colony's activity and sent the information to the installation, converting it into light and sound to echo the activity of the bees.
Inside the internal hexagon, Buttress used 12 super-bright projectors to display films onto the walls. "The visuals will change depending on where you stand within the space, rather like being inside a kaleidoscope of a hive," he explained.

Constructing the structure, which consists of the inner 12-metre hexagon and a wider outer diameter of 25 metres, was possible thanks to the large donation from BSW Timber.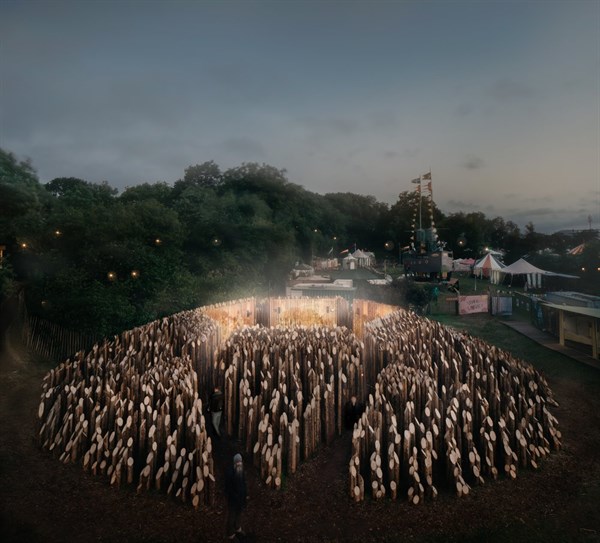 Tony Hackney, chief executive at BSW, said: "We were delighted to donate the logs, which were harvested by our sister company Tilhill Forestry, and to be playing a part in Wolfgang's phenomenal vision, BEAM.

"With a business that is, at its very core, built on nature, we are passionate about the environment and we strive to communicate the environmental impact of everyday activities to our customers and stakeholders alike.

"Involvement in projects such as the BEAM installation at Glastonbury's Greenpeace Field provides us with an opportunity to further demonstrate our commitment to the environment. We are grateful to Wolfgang for the opportunity to both strengthen our company values and to support such a worthy festival experience."

Buttress added: "I'd like to say a huge thank you to BSW Timber for their donation. This is a charity project for us as a team – and whilst we expect to have a lot of fun along the way, this thought-provoking installation would not be possible without the generosity of BSW Timber."
Confor's Technical Director Andrew Heald said: "It's brilliant to see logs grown in the UK being used in this innovative and exciting way.
"Confor has put forests, wood and climate change right at the heart of its campaigning activity. Installations like BEAM help demonstrate how productive forests can also deliver for wildlife and biodiversity too. This is an excellent creative example of how the forestry industry is committed to playing its part to safeguard the future of our planet. Well done to Tilhhill and BSW for making this brilliant contribution."