Scotland 'could plant trees for UK Government'
20 February 2020
The Scottish Government is in discussions about planting trees in Scotland on behalf of the UK Government - and being paid to do so by Westminster.
Fergus Ewing MSP, The Scottish Government's Cabinet Secretary for Rural Economy and Tourism, said without support, the UK could not meet its tree planting target of 30,000 hectares of new woodland every year by 2025. 
In 2018-19, the UK planted just over 13,000 hectares of new woodland, with 11,200 hectares (84 per cent) planted in Scotland. Mr Ewing said the Scottish Government wanted to plant 12,000 hectares this year, rising to 15,000 hectares by 2025.
Speaking at a seminar, Forestry in Scotland: Investing in the Future, Mr Ewing said: "It's encouraging that our colleagues down south recognise the value of targets - though I don't feel they will be able to fulfil them. I have asked the Environment Secretary [George Eustice, who replaced Threresa Villiers this month] to pass the  money to Scotland to do more of the job here because they cannot do the job there. The only way to achieve the target is by investing in Scotland.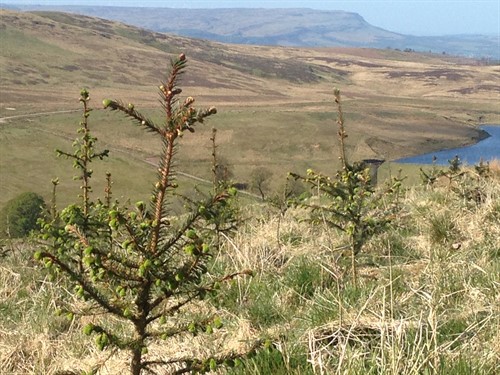 "That's not a political point, it's a statement of fact. I hope we can have sensible discussions about achieving that objective."
Mr Ewing said tree planting was a central component of the policy actions needed to deliver on climate change - and that forestry had "gone from off-stage to centre stage" and was now "the sine qua non of climate change targets".
He felt Scottish forestry was on the cusp of a new golden era, but said such language could lead to complacency - and promised to continue to concentrate on the key issues that industry was focused on; timber transport, better silviculture, availability of seedlings and greater use of timber in construction.
Challenged on the need to prevent "wall to wall monocultures of sitka spruce", Mr Ewing said that the planting of the 1970s and 80s simply did not happen now and the UK Forest Standard prevented it from happening again: "We made some mistakes in the past but now there are tough standards to meet in terms of the proportion of a single species that can be planted on a site - there has to be a mix of species. Planting applications must go through a very complicated and highly regulated process.
"But we must plant productive trees to ensure a steady supply of timber to our sawmills and panel board makers, to provide the timber we need. That gives the wood processors the confidence to invest in their facilities."
Stuart Goodall, Confor's CEO, said forestry had been "ahead of the game" in accepting and implementing high sustainability standards. "We have been working to high sustainability standards since the mid-90s but people haven't always been ready to listen. Judge forestry for what it does now, not what you didn't like in the 1980s."
The seminar was organised and supported by legal firm Turcan Connell and Scottish Woodlands Ltd.
David Robertson, Investment and Business Development Director for Scottish Woodlands Ltd, said: "There is huge interest from farmers, landowners and investors in planting trees in Scotland - and by providing the right support, we can deliver a wide range of economic, environmental and social benefits. It's a very exciting time." 
Don Macleod, Land and Property Partner at legal firm Turcan Connell, said: "It's all about helping our clients understand the potential of planting trees and putting forestry at the centre of land use discussions. We are moving away from the old farming versus forestry debates to a much better understanding of how the two can work together effectively - to provide a sustainable rural future in Scotland."
Farmer Tom Pate described how harvesting and re-planting trees at Middleton Farm, near Kilry, Angus, had secured the future of the farm.
Long-term prospects for the hill sheep farm appeared challenging, until the family discovered that felling trees on the farm would command a much higher price than expected. They put in roads to get the timber out, and linked up different patches of woodland (around 60 hecatres of woodland in 22 different parcels) when they re-planted the harvested trees. As well as replanting the felled area, 130 hectares of new woodland was created on poorer grazing land.
 "Forestry was a headache and a hassle but it became the catalyst for the rejuvenation of the whole farm," said Mr Pate. "We were maybe lucky with our timing [in terms of high timber prices] but have been able to improve the infrastructure of the farm greatly, and also add to the capital value. We had a great spin-off as we have used the space between fenced-off areas of forestry to create a herd of 200 deer to produce venison."
Mr Pate said he had never had any objections to planting trees - and thought other farmers were open-minded. 
Peter Chapman MSP - a farmer, member of the Scottish Parliament's Rural Economy Committee and former rural spokesperson for the Scottish Conservatives, agreed opinions were changing. He recalled his comments at a forestry conference in Edinburgh in 2017, when he said: "In Scotland, if you plant trees on your land, it is somehow seen as failure. My focus is to help change the mindset of the farming community, to see forestry as an asset, not a failure of the business model."
Mr Chapman said things had definitely changed for the better. "Farmers are now realising the value of woodland. The difficulty has been farmers expect to plant and have something in a year, not 30-40 years like forestry, and that's always been  an issue. But farmers are beginning to look more at the tax implications and realising there is more to it. Attitudes are changing and I'm very pleased."