Confor takes leadership role in shaping rural policy
4 October 2016
Brexit represents a real opportunity for the forestry and timber sector as it offers the prospect of a truly integrated approach to land use for the first time in decades.
A packed Fringe event at the Conservative Party Conference, organised by Confor and The Woodland Trust, also heard a rallying-cry for creative thinking about rural land use and policy in the new environment.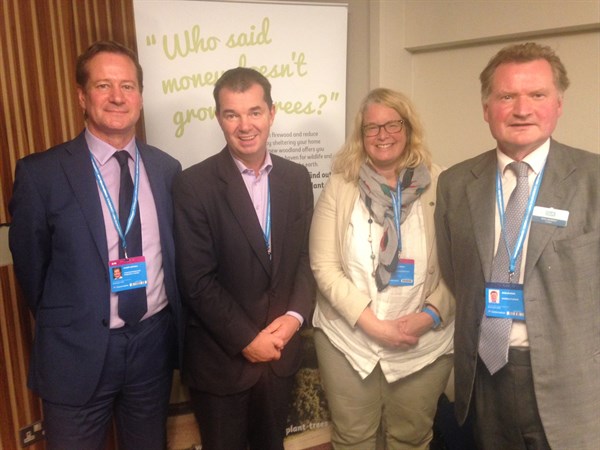 Guy Opperman, MP for Hexham, which includes Kielder Forest and major wood-panel business Egger, chaired the event, with the panel comprising Confor CEO Stuart Goodall, Beccy Speight of The Woodland Trust and Ross Murray of the CLA. 
Beccy Speight said the most recent planting figures in England, showing only 700 hectares planted in a year compared to a Government target of 5,000 hectares, meant we had to make it easier to plant trees. She added: "CAP and other factors have worked against us. It's about planting the right tree in the right place but above all, planting more trees of whatever type." 
Stuart Goodall agreed: "There is a fantastic opportunity to do something we haven't had for decades - take an integrated approach to land use. CAP has encouraged a cycle of constant negotiation and renegotiation and created a silo approach to rural land use policy.  
"With Brexit we have a once-in-a-lifetime opportunity to stop simply wondering where we go from here on rural policy, but instead to step back and identify the outcomes we want to see from land use free from the constraints of CAP– to think afresh about how we create successful rural areas which balance profitability with environmental benefit. There are many places where planting trees is the right thing to do. My post-Brexit vision is for brave, wide-ranging thinking to deliver a green and profitable rural economy." 
Ross Murray said the policy and fiscal backdrop had to be right because growing trees was such a long-term activity. "If a tree takes 50 years to mature, that is ten government cycles. Persuading landowners to do that is a big deal. That's why the fiscal backdrop has to be right; there has to be a financial driver. All the cost and risk is at the front end, so some direct support from the Exchequer has to continue. 
"However, we must be imaginative about new sources of funding. If water companies want to prevent downstream flooding, can we get them to support planting in the uplands? 
"Let's also look at cross-subsidy and diversification and shake up the planning system to lever more money into forestry as well." 
Guy Opperman said all the signs from the Treasury and Defra were that subsidies for rural land use would remain in some form in the immediate term - but added: "We can be imaginative and innovative but you also need to look at how you are funding this with other sources of capital." 
Asked by Mr Opperman if the forestry sector could achieve positive outcomes with less money, Stuart Goodall said carbon offset was a way this could be achieved.
"The UK has signed up to the global agreements but we are not going to meet the targets set through emission reductions alone as the impact on livelihoods and the cost of implementation will be so punishingly high as to be unacceptable to voters. A measure of credible carbon offsetting will be required and tree planting is the best and most cost-effective way of achieving that. The evidence is there to measure the carbon impact of planting trees, and it also delivers many other benefits like biodiversity, flood prevention and rural employment. We need an effective trading system to generate the funds, and ideally one that also encompasses wood products from UK forests."  
Audience members raised the issue of the public dislike of mass planting on the uplands, but the panellists all insisted modern forestry was very different to the monoculture plantations of the 70s and 80s. 
Beccy Speight said planting is very different now, usually a mix of native and productive forestry: "It is much more sensitive - visions of the past are not the current situation."  
Ross Murray said: "There are sensitivities over upland planting but also lots of good [and appropriate] opportunities to plant on the upland, especially in Wales and Scotland." 
Stuart Goodall reiterated the point, saying: "Historic planting is very, very different from what we do now. However, it takes time for the difference to emerge. Modern, mixed woodlands with open ground which are planted now will not show their quality for 20-30 years. We take out environmental NGOs to show them the woodlands we are creating and they can see we are providing a fantastic product.  
"But it is scale that provides the greatest range of benefits, including wildlife areas and of course spruce trees, the demon tree which seemingly must never speak its name. Sitka is a valuable part of that mix of species - and now that we are applying modern management practices to the forests planted last century we can provide some great diverse sites. Take Kielder Forest. People think it's a national park but it's a working, productive forest." 
Mr Goodall also called for better management of hardwood forests: "I would love to see us managing our broadleaves. We removed so much in the 50s and 60s and have lost the culture of managing them. The public appear to believe that we should create new woodland, admire it, shut the gate and hope everything will be fine - but these new woodlands need to be managed by thinning and harvesting to let in light and to produce high-quality products." 
Asked by Guy Opperman what percentage of tree coverage they would like to see, and what was achievable, Beccy Speight said 20-25 per cent was her wish. Ross Murray thought 'late teens' was more realistic by 2050 and Stuart Goodall said 17 per cent by 2050 was "very achievable". Ross Murray thought that a reduction in support for farming post-Brexit would see land values drop and create opportunities for more new forests. 
Protection from tree diseases and pests is topical, and the panel were challenged on how we can better protect our valuable forests and woods. Beccy Speight highlighted the need for resilience in woodlands, providing a range of tree species so that woodland can survive if one or two species succumb to disease. Ross Murray highlighted the post-Brexit opportunity to change the rules on tree imports, with the onus being put on the exporting, not the importing country, to demonstrate that trees are from disease. 
Mr Goodall felt that designing and running country schemes for tree planting that avoid the roller-coaster of demand from tree nurseries would enable those businesses to plan ahead and grow trees in the UK, rather than being forced to balance their production with imports. 
Bringing the session to a close, Guy Opperman said he detected a real sense of optimism in the sector, and a belief that the post-Brexit future offered significant opportunities.